The Official Samsung Galaxy S8 Specifications and Reviews from The Authority
The SAMSUNG GALAXY S8 Review is from:
Feel that tension in the air? It's the quiet-but-pressurised noise of Samsung executives holding their breath as they wait to see if the new Galaxy S8 is the success they so badly need it to be.
After the Galaxy Note 7 had to be withdrawn last autumn because of safety issues, the S8 really must not fail.
I've been using the S8 and its larger sibling, the S8+ for a week. So, is it sigh of relief or hard, disappointed exhale for the execs?
Design
The look of the Galaxy S8 is a refinement of the Galaxy Note 7 and the Samsung Galaxy S7 edge. Note that the edge name has disappeared: if you buy an S8, you're getting one with Samsung's distinctive sloping-edged screen, the option for the more conventional flat-edged screen isn't available this time around.
The gloss black finish on the rear of the Midnight Black version of the phone is similar to the iPhone 7's Jet Black option. The difference here is that Apple's phone is made of aluminium polished so finely it looks like glass. This is glass. It doesn't pick up fingerprints quite as quickly as the iPhone 7 Jet Black, either. It's also available in Arctic Silver and Orchid Grey, which has a slightly purplish tinge.
The slopes on the screen are mirrored by curved edges on the back of the phone which make the phone fit the hand brilliantly. The edges are super-smooth, the join between screen and chassis almost too subtle to feel.
The phone looks spectacular: classy and elegant in a way Samsung has never come close to before – easily the most opulent phone the company has released. It's a head-turning, tactile beauty.
There's a lot to admire, from the flush rear camera to the understated company logo on the rear – there's no room for the name on the front, there's so much screen there.
Fingerprint sensor
But there's one big disappointment: the fingerprint sensor. Personally, I prefer fingerprint sensors to be on the front of the screen, though it would require a very different technology to make that happen here.
Sony puts its sensors on the phone's right edge, which works well, too. But if it's going to be on the rear, it needs to be central and easy to find when you're not looking.
Samsung has put the sensor just to one side of the camera lens and for the life of me I didn't find this an easy discovery. I had to mentally remind myself which side of the lens it was (to the right as you look at the back of the phone) and I inevitably muddled this up when reaching blindly for it as I looked at the front.
Even registering the fingerprint for use was a bit fiddly, insisting my finger covered the entire sensor every time. And it was notable that the set-up screen included a warning not to press on the camera sensor by mistake.
I will say, though, that in use it was very responsive: quick and reliably able to recognise my fingerprint. But I did also finger the camera lens with some frequency.
There are other ways to unlock the S8. Tap in your PIN or use the iris scanner or face recognition process. All of those have the advantage that you don't need to pick the phone up to activate it, though you do have to tap the home button onscreen to activate the iris scanner, for instance.
Iris scanner
This has been significantly improved since it first appeared on the Galaxy Note 7 last summer. It's much faster, once you've tapped the screen and you can even doll up the iris area at the top of the display where you have to look. I have opted for a cartoon, er, cat I think it is. Anyway, it makes me laugh.
You do need to open your eyes wide and it's not much cop with glasses but this is still a neat way to launch the phone, good enough and fast enough to make using the fingerprint sensor less important.
But you do have to have your eyes in the right place, so sometimes it feels slower than tapping in your passcode, which can't be right.
Face recognition
This innovation is also fun. The phone registers your face and once you've tapped the home button it can use this to unlock the handset, though there have been instances of unlocking using a photo instead of the real you. I haven't managed to fool it, I should add. The face recognition was less reliable than iris scanning. It sometimes launched the screen instantly, which felt intimate and enjoyable but other times it said no match or no face was found. You can't have iris scanning and face recognition active at the same time.
I suspect that some users will tire of these features and just resort to the fingerprint or code instead.
Display
The other thing that makes the phone fit the hand well besides the curved edges is the screen shape. Where most smartphone screens have a 16:9 format, this is 18.5:9 which means the 5.8-inch display of the S8 and even the 6.2-inch screen of the S8+ don't stretch your hands. It's hard to over-emphasise the important of this. These are big-screened phones which feel anything but. The S8+ is only fractionally taller than the Apple iPhone 7 Plus and is noticeably less wide. Even so, it squeezes in a display that's more than two thirds of an inch bigger than on Apple's phone, and still more comfortable to hold.
There are other details which work well here, such as the fact that the visible screen has rounded corners.
Video playback looks especially good on the S8, filling the screen up to the curved edges and looking vibrant and brilliantly colourful. Video playback, naturally, has squared off corners, not rounded ones.
You can split the screen to watch video in the top part of the screen so you can, say, text on the bottom half. Maybe you'll find this handy but in practice I didn't find I needed it. Maybe I just don't multi-task well.
Overall, the display, with its dominance of the front of the phone, exceptionally high resolution (570 pixels per inch), striking brightness and richness, is one of the real highlights of the S8 and S8+. Strictly speaking, the S8 has the better screen in terms of pixel density as it's the same number of pixels spread a little bit thinner on the S8+ (where it's 529ppi). In practice, both look pretty splendid.
Add to that the fact that this is an HDR display, capable of showing detail in the bright highlights and dark shadows at the same time, and the S8 is the most watchable phone screen I've seen.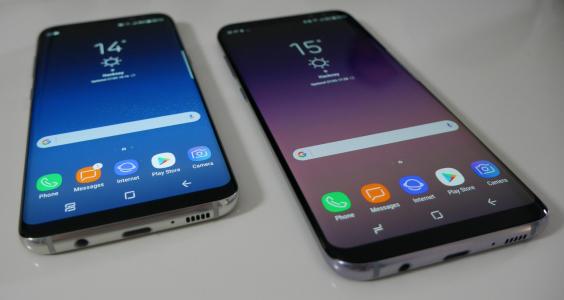 Always-on display
When the phone is in standby, the S8 has the always-on display technology seen on the S7 and on rival phones like the LG G5 and more recent LG G6. This is a very handy system, which actually solves the problem of unlocking the phone in many cases. That's because one of the most frequent reasons for waking the screen is to see the time, and that's on permanent show here. You can choose from analogue and digital time displays or other options such as an image or twin clocks for when you're travelling. LG's system works a little differently from Samsung's but both offer useful features and indications of whether you've received select notifications. For instance, you'll always see the date and battery status, plus whether there were any missed calls or emails since you last looked.
Home button
The home button on the S8 is pressure-sensitive. It's mounted behind the display, that is you press on the display to activate it. This is different from the 3D Touch capabilities of recent iPhones, where the entire screen has extra features related to how firmly you press. This is just one area of the screen – press the wrong area and nothing happens. Hit the right bit and you feel a subtle but recognisable haptic response.
The purpose is that the screen can be as big as it is but the home button still be accessible even if a full-screen app is hiding it.
Bixby
Bixby, you'll have heard, is the new Samsung personal assistant software. As names go, it's no stranger than Siri or Cortana, I guess. I should point out that Bixby is a work in progress, delivering different features according to your language and region. Voice, for instance, will launch in Korean andh US English imminently, with other tongues set to follow.
You launch Bixby by pressing the dedicated Bixby button on the left edge of the handset.
Press the eye button on the Bixby screen that appears and you're using Bixby Vision. Photo search is notoriously difficult but works reasonably well here if you're pointing the camera at a packet of dishwasher tablets, say. It offered to find places to buy these or to find similar photos. The first one worked well, the second option, not really.
Still, it's hard to judge Bixby at this stage as it's still unfinished. If it works effectively, it could be a decent rival to Google Assistant (also on this phone) and so on.
Camera
The Samsung Galaxy S7 camera was tremendous and there's not much change this time around, with the same resolution rear sensor (12MP), wide-open f/1.7 aperture and speedy autofocus.
Innovations include multi frame image processing which takes three images in quick succession. Other manufacturers, notably Apple, use this for High Dynamic Range images where different exposures can be combined for more dramatic results. Here, the camera chooses the sharpest image and uses the other two to reduce any motion blur. In practice, I found the images were sharp and focused throughout.
Double-press the power button and the camera launches, and quickly.
Software
Samsung has spruced up its shortcut icons brilliantly since the Galaxy S7. The shift to flatter and more layered app icons began with Windows Phone and was taken up by Apple and then, of course, most other companies. Success or otherwise depended on the good taste of the designer.
Taste is a personal thing, of course, but this is the first time Samsung has really delivered, I'd say. Cute, simple representations of the camera, messages and even the settings apps are brilliantly done. The web browser puzzles me as it looks like Saturn, or maybe I'm missing something.
Still, this is the most attractive app icon design on any Android phone, by a country mile.
Performance
There was no way Samsung was going to risk its latest flagship being a sluggish performer, and it's not. The S8 whizzes along thanks to its speedy processor and significant amount of RAM (4GB in Europe).
As with some previous Galaxy flagships, this model is waterproof – a feature that's increasingly common but not quite ubiquitous yet.
Battery life in my tests has been good, charging fast if using the supplied charger and lasting a full day with ease. Wireless charging is also available, though it's not as fast, of course.
The phone runs Nougat, the 7.0 version of Android and has 64GB of storage plus a memory card slot if you need more.
There are plenty of smaller features like Bluetooth Dual Audio which lets you play music from the phone through two pairs of Bluetooth headphones at the same time, which show Samsung is fizzing with invention and determination to succeed.
The S8 is not cheap, £689 SIM-free, with the S8+ clocking in at £779, though most people will buy on-contract so it won't be an issue.
Verdict
Breathe easy, Samsung execs. From its looks to its performance, stunning screen to subtle innovations, the Samsung Galaxy S8 is a dazzling smartphone. Sure, there's that misplaced fingerprint sensor and it's too soon to judge whether Bixby will be hit or miss, and the price is not low. But for all that the Samsung Galaxy S8 looks and feels just great, and is the kind of phone you don't want to put down.
Its screen shape makes it such a comfortable fit in the hand that you may be wary of wider phones from now on, especially if you plump for the S8+ with its massive screen in surprisingly small shell.
No surprise that this is Samsung's best phone yet, and the slickest Android phone ever.
While The Specifications is from:
The Official Samsung Galaxy Site
Design
Color Availability
Dimensions
68.1 mm8.0 mm148.9 mmGalaxy S8148.9 x 68.1 x 8.0 mm, 155 g
73.4 mm8.1 mm159.5 mmGalaxy S8+159.5 x 73.4 x 8.1 mm, 173 g
Display
5.8″ Quad HD+ Super AMOLED
(2960×1440)
570 ppi
6.2″ Quad HD+ Super AMOLED
(2960×1440)
529 ppi
*Infinity Display: a bezel-less, full-frontal, edge-to-edge screen.
*Default resolution is Full HD+ and can be changed to Quad HD+(WQHD+) in Settings.
*Screen measured diagonally as a full rectangle without accounting for the rounded corners.
Camera
Camera
[FRONT]
8MP AF
F1.7 Aperture
Pixel size: 1.22µm
Sensor size: 1/3.6″
FOV: 80
Wide selfie
[REAR]
Dual Pixel 12MP AF
OIS (Optical Image Stabilization)
F1.7 Aperture
Pixel size: 1.4µm
Sensor size: 1/2.55″
FOV: 77
Max Zoom: 8x (digital)
Pro mode
Panorama
Slow motion
Hyperlapse
Food mode
Save as RAW file
RearFront
[BOTH]
VDIS (Video Digital Image Stabilization)
HDR (High Dynamic Range)
Selective focus (Bokeh effect)
Virtual shot
Motion photo
Filters
Stickers
Stamps
Grid line
Location tags
Timer
Quick launch
Voice control
*Voice control is available for some languages.
Video
Recording
4K video recording at 30 fps
1080p HD video recording at 30 fps or 60 fps
720p HD video recording at 30 fps
VDIS (Video Digital Image Stabilization)
Digital Zoom 8x
High CRI LED Flash
Slow Motion video support for 720p at 240 fps
Hyperlapse video with stabilization
Continuous Autofocus video
Face Detection
Tracking AF
Take 9-megapixel still photos while recording 4K video
Playback Zoom
Video Location tags
Performance
AP
Octa-core (2.3GHz Quad + 1.7GHz Quad), 64 bit, 10nm processor
Octa-core (2.35GHz Quad + 1.9GHz Quad), 64 bit, 10nm processor
*May differ by country and carrier.
Memory
4GB RAM (LPDDR4)
64GB
*May differ by country and carrier.
*User memory is less than the total memory due to storage of the operating system and software used to operate the device features. Actual user memory will vary depending on the operator and may change after software upgrades are performed.
Network
& Connectivity
LTE Cat.16
*May differ by markets and mobile operators.
Wi-Fi 802.11 a/b/g/n/ac (2.4/5GHz),VHT80 MU-MIMO,1024QAM
Bluetooth® v 5.0 (LE up to 2Mbps), ANT+, USB Type-C, NFC, Location (GPS, Galileo, Glonass, BeiDou)
*Galileo and BeiDou coverage may be limited.
Expandable
Memory
& SIM Card
Single SIM model: one Nano SIM and one MicroSD slot (up to 256GB)
Dual SIM model (Hybrid SIM slot): one Nano SIM and one Nano SIM or one MicroSD slot (up to 256GB)
*May differ by markets and mobile operators.
Audio
[Ultra High Quality Audio Playback]
UHQ 32-bit &DSD support
PCM: Up to 32 bits
DSD: DSD64/128
*DSD64 and DSD128 playback can be limited depending on the file format.
[Audio Playback Format]
MP3, M4A, 3GA, AAC, OGG, OGA, WAV, WMA, AMR, AWB, FLAC, MID, MIDI, XMF, MXMF, IMY, RTTTL, RTX, OTA, DSF, DFF
[Bluetooth]
Dual Audio: connect two Bluetooth devices to the Galaxy S8 or S8+ to play audio through the two devices simultaneously.
*The two connected devices may exhibit a slight difference in sound output.
Scalable Codec: Bluetooth connection is stable even with ambient radio frequency interferences.
*Available only for certain accessories made by Samsung.
[Recording]
Recording quality is improved with the High AOP Mic that minimizes distortion in noisy environments.
*AOP: Acoustic Overload Point
[Bundled Earphones]
Pure sound by AKG
Hybrid canal type
2way Dynamic Unit
Video
[Video Playback format]
MP4, M4V, 3GP, 3G2, WMV, ASF, AVI, FLV, MKV, WEBM
[TV Connection]
Wireless: Smart View (Miracast 1080p at 30 fps, mirroring support available for devices supporting Miracast or Google Cast.)
With cable: supports DisplayPort over USB type-C. Supports video out when connecting via HDMI Adapter. (DisplayPort 4K 60 fps)
Water & Dust Resistant
IP68
*Water resistant up to 1.5 meters of water for 30 minutes.
Battery
Galaxy S8
[Battery Capacity]

3000mAh
[Battery Life]

MP3 playback (AOD on): up to 44 hrs
MP3 playback (AOD OFF): up to 67 hrs
Video playback: up to 16 hrs
Talk time: up to 20 hrs
Internet use (Wi-Fi): up to 14 hrs
Internet use (3G): up to 11 hrs
Internet use (4G): up to 12 hrs
Galaxy S8+
[Battery Capacity]

3500mAh
[Battery Life]

MP3 playback (AOD on): up to 50 hrs
MP3 playback (AOD OFF): up to 78 hrs
Video playback: up to 18 hrs
Talk time: up to 24 hrs
Internet use (Wi-Fi): up to 15 hrs
Internet use (3G): up to 13 hrs
Internet use (4G): up to 15 hrs
*Data based on devices released in Europe. Actual results may vary depending on usage and environmental factors.
Charging
Fast Charging on wired and wireless
Wireless Charging compatible with WPC and PMA
Sensors
& Buttons
[Sensors]

Iris Sensor
Pressure Sensor
Accelerometer
Barometer
Fingerprint Sensor
Gyro Sensor
Geomagnetic Sensor
Hall Sensor
HR Sensor
Proximity Sensor
RGB Light Sensor

[Buttons]

On/Off key
Volume key
Bixby key
Security
Authentication
Lock Type: Pattern, Pin, Password
Biometrics Lock Type: Iris Scanner, Fingerprint Scanner, Face Recognition
Security
Knox protection: Real-time device monitoring and protection
Virus, malware prevention (Powered by McAfee)
Secure Folder: A secure space on the device to keep content such as apps, photos, movies, and files private using either iris scanning or fingerprint scanning.