First victim of Manchester bombing named as Georgina Callander, 18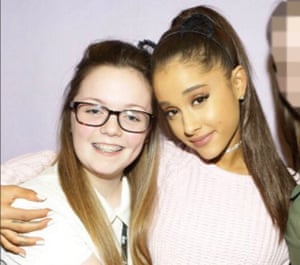 The first victim of the suspected suicide attack after the Ariana Grande concert in Manchester that has left at least 22 dead and 59 people injured has been named as 18-year-old Georgina Callander.
Runshaw College, where Callander was a student, released a statement, saying: "It is with enormous sadness that it appears that one of the people who lost their lives in Monday's Manchester attack was one of our students here at Runshaw College […]
"Our deepest sympathies, thoughts and prayers go out to all of Georgina's friends, family, and all of those affected by this loss."
The former Bishop Rawstorne pupil was on the second year of her health and social care course at the college. The college said it was offering counselling with a dedicated student support team to people close to the teenager.
Parents of other missing concertgoers are desperately searching for their missing children.
As it was confirmed that children were among the victims of the Manchester Arena attack on Monday evening, parents continued to visit hospitals and post pictures of their loved ones on social media.
About 21,000 people, many of them children and teenagers, were in the arena when a bomb exploded in the foyer at about 10.30pm.
Greater Manchester police have told people who need help or assistance tocome to gate 11 at the Etihad Stadium, Manchester City football club's ground. An emergency phone number set up to help people is 0161 856 9400.
On Tuesday morning, parents were still trying to learn news of their children. Deborah Hutchinson, from Gateshead, went to Manchester in the hope of finding her teenage daughter Courtney, who has been missing since the attack. In an appeal on Facebook, she wrote that Courtney was with her partner Philip Tron and by 8am on Tuesday morning neither had been located.
She wrote:
The search for missing victims was complicated by the spreading of false information on social media, with many sharing apparently fake reports that the Holiday Inn in Manchester had taken in 60 children without guardians. The hotel told the Guardian it provided support to people immediately after the attack but could not confirm reports of large numbers of unaccompanied children.
In a statement, it said: "Our thoughts are with all the victims of this horrendous tragedy as well as their friends and family and the people of Manchester. The hotel teams at Crowne Plaza Manchester City Centre and Holiday Inn Express Manchester City Centre – Arena have both been working closely with the emergency services throughout the night, supporting members of the public who needed immediate refuge. The hotels are fully operational and continue to offer support.
"A number of other Holiday Inn hotels in the wider area also offered those impacted a place to stay – as the wider Manchester community did – through social channels."
A grid purporting to be of missing victims who had been found included fake photographs, according to an article by BuzzFeed which debunked several false news stories being circulated.
Charlotte Campbell was among the parents still looking for their children. She told BBC Radio 4's Today programme that her 15-year-old daughter, Olivia, was still missing. She said she had spoken to her at the concert. "She'd just seen the support act and said she was having an amazing time, and thanking me for letting her go," she said. Olivia was with her friend Adam, who was found in hospital, but Olivia had not been seen.
Campbell said: "I'm at home phoning everybody: hospitals, police, the centres that the children have been put in. Her dad's in Manchester looking for her. I've got friends looking for her. I've got people I don't even know looking for her, people messaging me, saying we've got her photo, looking for her, we'll get in contact if we see her. And I'm just hearing nothing. Her phone's dead."
She said that social media had been "wonderful" for spreading the news about the search for her daughter, with thousands of people now aware she was missing. She added: "They've basically told me to stay put and wait for a phone call. I daren't leave the house just in case she somehow gets home."
The band Little Mix tweeted an appeal for information on Chloe Rutherford, 17, and her friend Liam Curry, 19 who have been missing since the blast. The pair are from South Shields, South Tyneside, the hometown of two members of the band.
Dawn Finnigan tweeted: "Thank you everyone for the retweets. There is still no news on Chloe and Liam. The family have been in touch with @gmpolice #manchester."
In the early hours of the morning, a family from the Philippines told the Guardian they were searching for a missing loved one at Manchester Royal infirmary.
A 17-year-old girl, who asked not to be named, said she was looking for her mother, last seen in the post-explosion chaos. Her mum's boyfriend had been injured but located, but her mother remained missing.
The teenager said: "When the concert ended we heard a really big explosion, there was smoke coming out."
Manchester Royal infirmary's accident and emergency department was in "complete lockdown" according to staff. "It's a crime scene," said one, pointing to police forensics officers who are going in and out of the hospital with clear plastic evidence bags.
Police officers guarded the doors, behind two red signs saying "major incident – no entry". As ambulances began to arrive at about midnight, staff cleared A&E of all patients unconnected to the blast.
At about 2.30am two more ambulances pulled into the children's A&E, followed by a van carrying blood supplies. Throughout the night relatives arrived to see if their loved ones were at the hospital. Some found them, but others got back into their cars or taxis to check other hospitals.
Steve Rotheram, the Liverpool city region metro mayor, said his daughters had been at the venue and thanked the taxi driver who "eventually got through the traffic to pick up my two girls".
On Twitter he wrote: "All my thoughts go out to those parents waiting to hear of the safety of their children. It's a parent's worse nightmare. So, so sad."
Stuart Aspinall, 25, said he was trying to find his friend Martyn Hett after they were separated towards the end of the gig. Aspinall shared photos of the 29-year-old, from Stockport, on Facebook to help track him down.
He wrote: "The more news that is coming out, the scarier this is getting. There was an explosion at the Ariana Grande concert tonight in Manchester and I haven't seen my friend Martyn since."
Greg Southern told the Guardian he was sitting on the same row as Hett. "I don't know him but he was on the row I was on. He was stood on the exit steps on the end of our row," Southern said. He recognised him from photos shared on Twitter. "We were at the other side of the arena from where the explosion took place. The concert had just finished and the lights had just come on. There was this absolutely tremendous bang and everybody panicked at that point."
The audience included many young teenagers, he said. "I was there with my boyfriend, but next to us there were maybe three groups who must have been young teens, 15 or 16. In the row behind was a mother with children. The majority of people were quite young."
The parents and friends of Laura MacIntyre and Eilidh MacLeod, both 15, from the Hebridean island of Barra, issued urgent appeals after they went missing following the Manchester attack. One of the girls' aunts confirmed the pair had not contacted relatives since the blast.
On Facebook, Margaret MacNeil said: "Please please please share! My niece and her friend were at the Ariana Grande concert tonight and there has been no contact since the explosion. Please let us find the girls safe and well. They are Eilidh MacLeod and Laura MacIntyre."
Laura's father, Micheal, also issued an urgent request on Twitter for help in tracing his daughter.
Angus MacNeil, the Scottish National party MP for the Western Isles, said he knew the MacIntyres, with their daughters having sleepovers together. MacNeil said he had spoken to both girls' fathers this morning. "I just can't begin to get to the depths of their worries," he said. "They are without doubt missing."
He said Eilidh MacLeod's father was flying from Benbecula to Manchester while members of the MacIntyre family were also making their way to the city.
Emily Claque, a Travelodge manager, tweeted an appeal for the girls saying she was with Eilidh MacLeod's mother.
Like many other relatives, Jordan Howe was searching hospitals in Manchester to try and find his missing step mum Alison Howe. " We haven't heard anything yet. I am just about to go into another hospital, we have been looking in the hospitals for her.," he told the Guardian.
Sasha Howe posted a picture of the two women on Facebook, writing: "Please get in contact if anything is heard and share this."
Sasha Howe, from Oldham, said her mother Alison and family friend Lisa Lees had both gone to the arena to pick up their daughters from the concert. The two girls have been found, but Lees and Howe are both still missing. "[We've] heard nothing," Sasha told the Guardian.
Howe was with her friend Lisa Lees. The last place she was seen was in the MEN arena where she was waiting to pick up Jordan's sister.
Anyone searching for missing relatives and friends should contact 0161 856 9400